Old-time prints and original new photos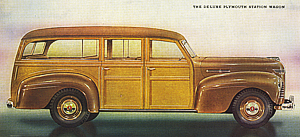 The prints are high-resolution scans of old-time sales art, with glitches, folds, staples, and rips removed; optimized to my best estimation of what they looked like when they were new. I have Plymouth material on hand, because I belong to a club for Plymouth owners, but given time I can acquire other brochure art, or work from material that you furnish, if there's something you can't live without. The illustration at right links to a page with my current inventory and pricing information. If you have a custom project in mind, get in touch and we can talk about it.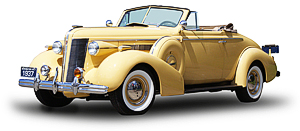 The photographs are high-resolution digital pictures I have taken in the past few years. In most – but not all – cases I have isolated the vehicle from the background. My standard sizes are good if you want pictures for your wall, but a good digital file can be optimized for anything from note cards to billboards. Custom projects add some variety to my life, and I'll gladly discuss your specific needs, or consider working from files which you supply. The picture at right links to the pictures and sizes I have available at the moment.
I print the 8"x10" and 13"x19" sizes with an inkjet printer on high-quality matte photo paper. The larger sizes are printed with a lustre finish by outside vendors. Turnaround takes 2-3 business days, and prints are shipped via US Mail, in a tube. Price includes shipping/handling. I can accept payments only through PayPal.If you're not satisfied, return the prints for a refund via PayPal.
Keep coming back …
I add to this collection as time permits.