Recent Projects:

A Great Big Plymouth Logo
Cascade Pacific Plymouth Club had trouble with visibility of their booth at Portland Swap Meet. One of our members thought he had the solution: he had created a tower for a church street fair, which could be re-purposed to boost a Plymouth logo 20 feet in the air. All he needed was a Plymouth logo, 42" tall and he had a snapshot of the logo he wanted – a low-res JPEG of the cloissoné-like medallion on the front of a 1940 Plymouth, which had the colors he wanted. But the proportions were wrong, and he thought it should be wider.
The thumbnails below document my strategy; the pic at the right is proof that it worked. I found a better-proportioned logo in the 1932 Plymouth sales brochure, and made a high-res scan. I isolated the elements of the logo on separate layers in Photoshop, swapped in the color and detail from the provided snapshot, and applied a chrome treatment everywhere I could.
A fundraising brochure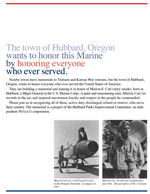 Click on the image at right to open a PDF file of the finished brochure.
A group of citizens in Hubbard, Oregon, are creating a veterans memorial on a parkway in Hubbard, and naming it for Marion E. Carl, a Hubbard boy who was flying ace in World War II, and subsequently a famous test pilot, who retired with the rank of Major General. The fundraising committee approached one of my clients for help. My client's response was multi-faceted: he paid for the creation of this brochure, and hand-carried it to veterans' organizations throughout the Northwest with a plea for support.
Budget was not a problem for this project, but the design and editorial sides presented challenges. Images came from a variety of sources, and quality was not consistent, and a designer may be hard-put to do justice to black-and-white images in a color publication. One aspect of design also impacted the writing: the client insisted on a large a readable typeface, which made brevity a necessity. Editorially, old veterans are a demanding audience: they want to see lots of detail, and it had better be correct! (I once reshot a Jeep-and-trailer photo spread because the knots in a tarp tie-down were not regulation!) Information about Marion Carl was abundant, and I was eventually able to create a biography that fit in the available space.
Working for a car collector, Overview
When you start staging a million-dollar car collection, you find that you're pretty much on your own. There are no instruction manuals, and not many precedents. On ordinary projects, you can count on the budget doing part of your thinking: some things, because of expense, are simply out of the question. Things get more complicated, rather than less, when a client can afford [just about] anything that he wants; and instead of asking what's the best you can do for the money, you find yourself simply wondering what's the best you can do.
Working for a car collector, #1 – The catalog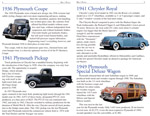 This is how it started: a member of my car club – a man I knew only in passing – approached me in November, 2008, about a small writing- and research project. He had about two dozen collector vehicles in a brand-new warehouse in a Portland suburb. He had moved the collection from an older and considerably grungier venue, and was interested in the potentials the new environment had for displaying not only the vehicles, but his collection of World War II-Korean War memorabilia. In fact, he hired a muralist – Larry Kangas – before he hired me, and there were already patriotic- and military-themed murals on the walls.
My client and I talked about creating a small publication, inexpensive enough to give away to visitors, that would serve as a self-guided tour of the collection, explaining the significance of each vehicle and discussing some of the artwork that was going up on the walls.
The thumbnail at right links to a sample spread, full size, of the publication we began. I researched each vehicle; I took the pictures, wrote the copy, and laid everything out in InDesign. The only problem was the client: he kept adding items until the book was too bulky for a 5.5"x8.5" layout, and [we thought] too expensive to give away. We put it on hold.
Working for a car collector, #2 – Signage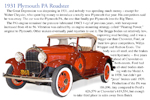 Observing the way visitors interacted with the collection, it wasn't clear that anybody would read a guidebook if we gave them one, and the client decided that signs might be a better idea. I made descriptive signs for a couple of the cars, recycling the photos and text I had created for the book. The samples were well-received, so I did the same for each car in the collection. The color documents were 18" wide by about 10" tall. The picture at right links to a legible but not full-size version, which is representative of the content, design, and tone of all the rest.
Working for a car collector, #3 – Designing displays and murals
There was always discussion about how the cars should be displayed – parking them in rows might be efficient, but it didn't seem to be much fun. The client was open to all possibilities. We talked to a stage-set designer and a theatre-lighting specialist, and I was sent to Reno to study and photograph the National Auto Museum, where false store fronts on the walls gave the illusion of cars parked on city streets. We also employed a team from an architect-and-design firm as consultants for a short time, and I worked in Photoshop and Sketchup to fit their concepts into our space. Eventually we abandoned the idea of building within the building – not because we couldn't make it work, but because it would interfere with sight lines for the murals that were already in place.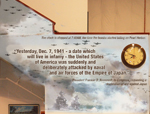 I had been assisting Larry Kangas with Photoshop files for the murals he was painting, and eventually I got the opportunity to design a mural on my own. The piece was intended to commemorate the Japanese attack on Pearl Harbor, and the space available was an awkwardly-shaped space at the turning of a stairwell. Aside from the shape of the space, it was challenging because verbiage was required for the display, and I wasn't certain how I could get the words on the wall. John Higgins, of Higgins Sign Company in Clackamas, consulted on the project and provided the solution. I combined a snapshot of some green hills with a few public-domain photos of the sunken ships in the harbor, added Japanese Zeroes overhead, built the scene to scale in Photoshop, and added type to the design as necessary. Larry Kangas did the painting. John used my Photoshop files to create the laser-cut vinyl lettering, and it went up correctly on the first try as I held my breath.
Working for a car collector, #4 – Captions for the murals


My client believed that a couple of his murals required captions, and this handed me a series of challenges. First, he had some vision problems, and he wouldn't okay anything that he could not personally read. The size of the characters determined how much could be written in the available space, so writing had to be precise. We would need to create an actual-size proof to make certain it would work. And we needed to somehow get from that proof to finished characters up on the wall. This happened at about the same time I was working on the Pearl Harbor display, and it wasn't yet clear how I would get the writing on the wall.
The ability to work to scale in Photoshop made everything flow. I found a font size the client could read from the floor 20 feet away, and then wrote and rewrote copy directly in the Photoshop file to fit the space available, until I had prose we could live with. I tiled an actual-size document out of InDesign to my wide format printer, and we taped it together and put in on the wall. It fit in the space, and my client could read it! After we settled on the wording, John Higgins used my files from Photoshop to create the laser-cut vinyl characters. Click on the thumbnail to see the two captioned murals, and keep in mind that they are more than 8 feet off of the floor, and they extend almost 22 feet in width.
Working for a car collector, #5 – The Car Show Mural


We left the best for last – mostly because we couldn't figure out what we were going to do about it. A space about 17'x67' had been reserved on the south wall, dedicated to peacetime and fun, as opposed to the military- and work-related themes on the other walls. The client wanted to honor his friends, and their cars, and the organizations he belonged to, but he was counting on his creative team – mostly me and Larry Kangas – to figure out how to do it.
We tried on different approaches for the better part of a year. We talked about a small-town parade, but that was unwieldy. We played with the idea of a collage, but couldn't figure out how to make it work. The notion of a car show and fair on a village green had the most staying power, but early efforts in that direction weren't encouraging, either.
In the end, I made a village green in Photoshop, almost from scratch. A couple of quadrangles on the Pacific University campus gave me perspectives and sightlines that I could enlarge upon. Main Street in Forest Grove, Oregon, is a photogenic outpost of buildings from the turn of the last century, and I used both sides of the street. A couple of other historic buildings found their way into the mix. I patched things together in Photoshop until I had a village green that suited our purposes.
Then we started parking cars on it. Our client went through his personal photos, picking out the people and cars that absolutely had to go in. Each one was scanned at high resolution, cut out, and placed in its own layer in the Photoshop file. Larry helped me move them around and resize them, teaching me a great deal about perspective and proportion as we went along. At various times, the Photoshop document contained at least 55 layers.
Getting the image on the wall was a multi-step process. We printed bits of the Photoshop document to transparencies and projected them on the wall, so that Larry could get started with the backgrounds. Then I photographed the painted backgrounds, and moved them back into the Photoshop document, so that we could position the other elements precisely and print more transparencies. Of course, there are touches in the mural that were never in my Photoshop version – Larry Kangas worked considerable magic on his own before he put down his brushes.
There are more pictures of this mural on Larry Kangas' website. Larry has some perspective shots that show the mural in context, and provide a better idea of how big it really is. Check them out!
Working for a car collector, #6 – Back to the book
We have had more than two years to observe how this mini-museum works in the context of my client's life. He is active in a number of community organizations, some of which meet on the premises. He keeps office hours there, and employs a small staff to manage the collection and to support his volunteer duties in the community. He has a steady stream of visitors from the veterans associations and the car clubs he supports, and occasionally he opens the collection to tours.
Some people breeze past the cars, glance at the murals, and then go on their way. For them, the signage and explanatory material is superfluous.
Other people try to read every word in every sign, and find the experience overwhelming. There is too much in this space to absorb easily in one visit. And some of the visitors come from quite a distance, so coming back until they're satisfied is not an option.
We're back to the idea of a book. It won't be a small book, this time. Printing technology has changed in the past two years, and the cost of a fairly nice, short-run publication has declined dramatically. In any case, the cost isn't necessarily as important as getting the point across. A small-format coffeetable book would be a nice keepsake gift to offer to visitors, and it would be something they could return to again and again, until they understood the experiences and impulses that led to the creation of this remarkable place.
That's what we're discussing in the winter of 2011.
Other projects: A very low-budget brochure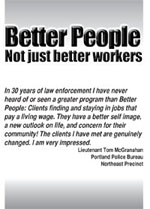 I'm proud of this one: it is basic, but it met the client's needs exactly. Better People works with a number of public agencies – the courts and the Office of Vocational Rehabilitation Services, among others, to stabilize people with legal problems and get them out of the court system. They have points of client contact in many agencies in the metro area. Even if the organization could afford printed brochures, there would be no practical way to distribute them.
Since Better People couldn't afford printing in the first place, we dispensed with it entirely. I created a trifold brochure and furnished it in Portable Document Format (PDF). It is distributed by email to the counselors, caseworkers, etc., who will be using it, and they print the brochure from their desktop- or office printers as clients need them. I duplicated the typeface and general look of the organization's website, but created the document in black-and-white so it could print effectively anywhere. I keep the original document on file (in Adobe InDesign®) and provide updates as required. The image at right links to a screen-optimized PDF of the brochure.
Fixing grandma's face: optimizing old images
This really is my grandmother. My great-great grandmother, to be exact, Mary Adeline Moor Wier Moore (1820-1907). They had been tucked inside a Bible that nobody had opened for a long time, considering its owner had died in 1927, and they were rediscovered only about a year ago. It is amazing that stuff like this keeps turning up. The first picture is a daugerreotype, the second is a photograph, and they are shown here actual size. I scanned them at extremely high resolution, and was able to enlarge them and clean them up a bit. Click either picture to view the new versions.
A logo, a brochure, a website
The client was Gay & Lesbian Archives of the Pacific Northwest, a non-profit organization dedicated to preserving local GLBTQ history. Their archives are housed at the Oregon Historical Society. GLAPN has existed since 1994, but had no logo, no print collateral, and no internet presence.

My first project for GLAPN was their logo (right), Rockwell Extra Bold
characters filled with the Rainbow Flag.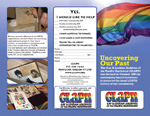 The second project was a brochure. I created an 8-1/2"x11" trifold in the form of a collage featuring items from the archives. I am indebted to Michael Fagan (http://faganm.com) for permission to use his photo of the Rainbow Flag for the cover of the brochure. The materials on the inside were scanned from archival materials, and I took the photos in class. The collage was created as a multi-layer Photoshop® file, and the brochure was created in InDesign®. Printing was by Witham & Dickey, Portland, Oregon. Click the thumbnail to see a screen-optimized PDF file.
The third project was a website, built with Dreamweaver®. You can see it at http://www.glapn.org.
New Leaf Environmental Concepts
New Leaf was a business which marketed bioplastic products and other biodegradable consumables to the business community, and offered consulting for long-term sustainability.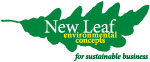 Another designer had done a great artistic job with the company's logo, but it was raster art, created for a business card. Re-creating the leaf outline using bezier curves, and replacing the original typefaces with postscript fonts, gave us the flexibility we needed to resize the logo for stationery, the company website, and, untimately, a trade-show banner.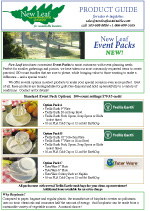 New Leaf needed a low-cost strategy to establish its own identity while selling products from a variety of manufacturers. It needed a product catalog which would allow flexibility for changing product lines, and the company needed an easy way to get product information onto their website.
The solution was to create a unified format for product display. The pages are identical in concept and modular in construction, so illustrations and descriptions can be swapped in and out easily. They are created in InDesign® and saved as PDFs, optimized for a desktop printing. Most of the photos come from manufacturers' websites; however, in this case all of the photography is mine. Click the thumbnail to see a screen-resolution PDF.
New Leaf's trade show banner
Here's a small JPG of the banner for New Leaf's trade show booth. Once again, I picked up the work of another designer, fine-tuned the layout, and optimized the file for output at a final size of 3'x6'.